"This S&%T is Bananas- B-A-N-A-N-A-S"
– Gwen Stefani
We don't know about you, but we are about 6 weeks into our stay-at-home orders, and that means we have made about 6 loaves of banana bread. Bananas are one of those things that we continue to buy with the hope (and false sense of reality) that we will actually EAT them in their pure banana form, but week after week we find ourselves left with the over-ripe reminders that once again we missed the opportunity to peel back that bright yellow exterior to reveal the perfect banana… instead, we have to get creative. Lucky for all of us, bananas give us a LOT of ways to be creative.
Here are our top three favorite ways to use bananas!
3 INGREDIENT BANANA PANCAKES
One of the easiest ways to use a banana is a quick and tasty three-ingredient pancake.
Why we love it: Because it is SO simple and can't go wrong! Bonus points for being VEGAN!
What you need:
1 banana
½ cup of rolled oats
3 ½ tbsp of vanilla almond milk (or whatever you like)
Recipe:
1. Mix all ingredients together using a hand blender
2. Grease your pan VERY well and just spoon the mixture in
3. Cook about 90 seconds each side
VOILA! That's it! You can top with berries, whipped cream or whatever else you like!
Pro tip: add a dash of turmeric and cinnamon to the mixture to dial up the flavor!
BANANA NICE CREAM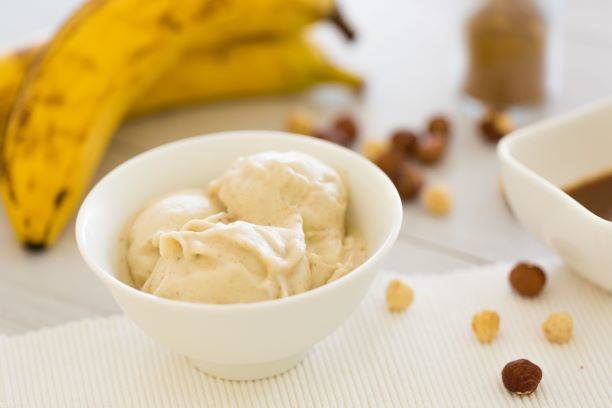 This is such a favorite! Beside the fact that it can help curb the late night ice cream craving, this recipe is super customizable and can be a lot of fun for kids.
Why do we love it: Who doesn't love ice cream?
What you need:
2-3 Bananas
Optional milk (we always choose a dairy-free option)
Optional flavors (the sky's the limit! Chocolate chips, nutella, peanut butter, mango, berries… mix and match flavors to your heart's content!)
Recipe:
1. Prep: this recipe takes a bit (and we mean only a bit) of prep! Cut up the banana into mid-sized chunks and put in the freezer until frozen.
2. Once your banana chunks are frozen, put them in a blender or food processor and pulse
3. Add a pinch of salt, and 2 tbsp milk of choice for smoother blending
4. Blend, blend blend and you will get a soft serve texture
5. You can add in optional flavors, or if enjoy as is!
You can serve immediately, or transfer to a container and freeze an additional 30 minutes if you want more of a scooped ice cream texture
Pro tip: If you have kids, portion out so everyone can have their own flavor! You can blend in some blueberries for a fun purple ice cream or raspberries/strawberries if you know someone who loves pink!
THE CLASSIC- BANANA BREAD
As you've probably already seen on everyone's social media, banana bread seems to be the mascot of this time in quarantine, and for good reason! Not only is banana bread always nostalgic, but also can be made gluten free, sugar free, vegan… there's no wrong way to make banana bread! We've saved the best (and most complicated) for last!
Why we love it: You can make it however you like! Maple oat banana bread? Yes, please! Chocolate chips? Hell, yes. Walnuts? Obviously!
What you need:
3 bananas
1 stick of unsalted butter
1 cup granulated sugar
2 large eggs
¼ cup milk
1 tsp vanilla extract
2 cups all-purpose flour
1 teaspoon baking soda
¼ tsp salt
Recipe:
1. Preheat oven to 350°F and spray pan THOROUGHLY to avoid sticking
2. Melt the butter.
3. Combine the butter and sugar in a large bowl and whisk
4. Add the eggs and whisk until the mixture is smooth
5. Next comes the milk and vanilla, again combine until mixture is smooth 6. and here comes the star of the show, the bananas! Mash them into the mixture using a fork. You can mash them until they are entirely smooth, or if you prefer more texture you can keep some smaller chunks
7. Add the flour, baking soda, and salt mixing everything together until no lumps or dry ingredients are visible
*IF YOU ARE ADDING ANYTHING, DO SO NOW! Fold in any chocolate chips or nuts if you wish!*
8. Make sure your pan is greased and pour the batter into the pan
9. Bake for 45 to 55 minutes. Bake until the top of the cake is browned and an inserted toothpick comes out clean. Baking time will vary slightly depending on the moisture and sugar content of your bananas — start checking around 45 minutes and then every 5-7 minutes after that
10. Let cool and ENJOY
Pro Tip: If you want to have a super instagrammable loaf, slice a banana long ways and place on top of the loaf prior to baking.
Pro PRO tip: Warm up a slice of banana bread, and add a scope of your NICE cream for a super special quarantine banana sundae!
We hope that this helps your bananas get put to good use! Let us know how your recipes work out in the comments below!