From November through the New Year, there are no shortage of deliciously delectable holiday treats. Meals that require pulling out the old family cookbooks for the special recipes of Grandma Margaret's gravy of Aunt Rachel's green bean casserole. Usually nestled between Thanksgiving and Christmas, Chanukah makes an appearance, and while there are many reasons to celebrate the festival of lights, there is really only one that transcends the Jewish holiday… LATKES! (AKA potato pancakes)

Potato pancakes are eaten to celebrate the "miracle of Chanukah" but we think the miracle is just how delicious they are. Truth be told, latkes aren't the symbolic part of the holiday meal, but the oil they are fried in!
In the spirit of Chanukah 2018 we are frying up some traditional (American) style latkes! Every family has a recipe for the crispy potato pancake, and this one comes to you straight from one of our Catered Fit employees who has been making this style latke for more than 20 years
Because latkes aren't exactly known for being the healthiest, we are going to give you two versions, the traditional fried and a slightly healthier alternative! After deciding which version you want to tackle, the hardest choice you will have to make will be whether to serve them with sour cream or applesauce.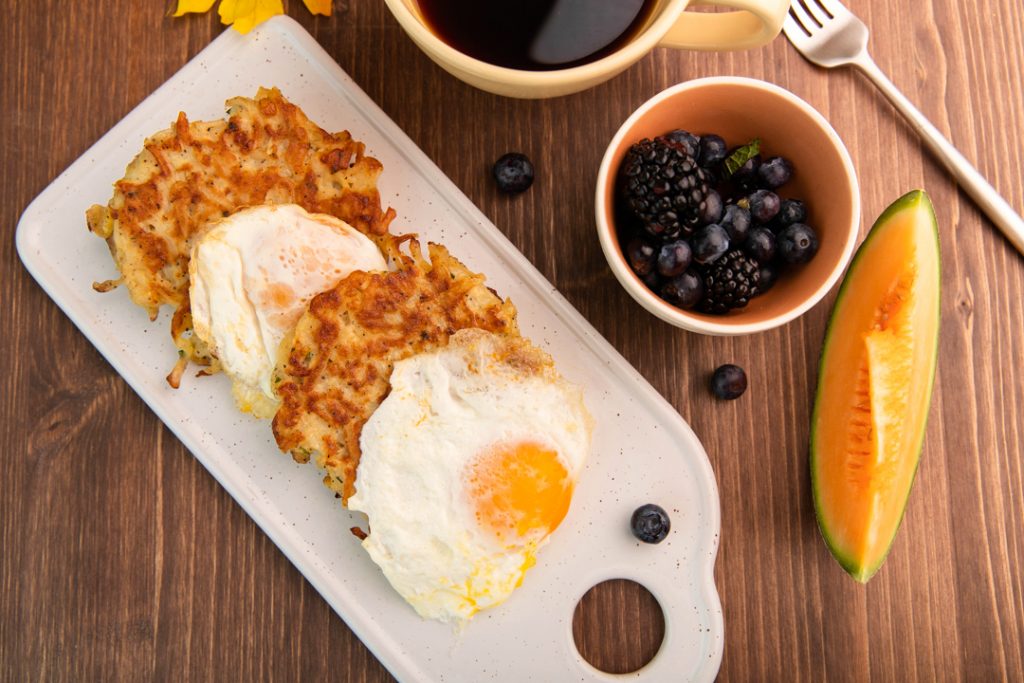 Traditional Latkes
Yield: 14-18 latkes (Let's be honest, no one just makes 18 latkes… it's always 100 latkes or BUST!)
Time: About 45-60 minutes (depending on how fast you are with that grater!)
Ingredients:
1 pound of potatoes
½ white or yellow onion
1 large egg
salt
¾ cup canola oil (any oil works in this case… after all, this is the real star of the latke show)
Preparation:
In complete transparency, the latke prep is the most labor intensive part of the whole process. It's important to be sure you have a really stable grater and a large bowl.
Peel all of your potatoes and grate them by hand. Pro tip: Watch your fingers…speaking from experience here, it's really easy to get in the groove and just keep grating until you catch a finger tip. And no one wants skin as an accoutrement to their latkes, just sour cream.
As you go, transfer the results of the grated potato to a large bowl of cold water. Soak the potatoes for one minute, and then strain them through a colander and then ring out as much of the liquid as possible. Let me repeat that for the people in the back… squeeze out as MUCH LIQUID AS POSSIBLE. (This seems like a totally unnecessary step, but actually keeps the mixture from turning brown too quickly.)
Don't put away that grater yet, its onion gratin' time! Grate about a half of an onion (white or yellow depending on your preference) and combine the onion in a large bowl with the grated potato. Mix in the large egg, salt and pepper to taste.
Heat the oil in a large nonstick skillet over moderately high heat until hot… if it's smoking, you've gone too far and should turn it down.
This is the fun (messy) part. Take your potato mixture and spoon about 2 tablespoons into the palm of your hand. Pat it down to form about a 3 inch pancake shape, gently place in the pan and listen for that sizzle!
Cook until browned on the underside (shouldn't be more than 4-5 minutes) and then flip! Transfer latkes to paper towels when they come off the oil to drain. Latkes can be easily reheated on a wire rack in a baking pan in the oven so they are great to make ahead of time!
Pro tip: Don't overcrowd the pan. Because you are forming and frying simultaneously, it's important to keep the number of latkes frying at a time to a maximum of 4.
"Not Your Grandma's" Latkes
Ingredients:
3 medium golden beets, peeled and shredded
3 leeks, trimmed, cleaned and thinly sliced
1/4 cup garbanzo bean flour (or use all purpose flour)
1 egg, well beaten
1/2 tsp ground cumin
1/2 tsp ground coriander
1/2 tsp yellow mustard seed
1 tsp salt
1 tsp freshly cracked black pepper
olive oil for frying
Instructions
: As with any latke, (or fritter) it all starts with a good grating. Grate your beets and be sure to rinse in a colander before combining the rest of your ingredients. This will help get rid of any graininess or grit in your latkes! Be sure to dry thoroughly before using!
Toss the shredded beets, leeks, egg, flour, spices, and salt and pepper together in a bowl.
Coat the bottom of a cast iron or other heavy skillet with olive oil. When the oil is hot, drop tablespoons of the beet mixture into the pan, flattening them out into rounds. You should hear a strong sizzle when the mixture hits the pan, or your oil isn't hot enough.
Pro Tip: Make sure your oil is hot before you fry the fritters.  Hot oil will sizzle on contact, I test it by dropping a shred of beet into the pan.  If the oil is not hot enough the fritter will absorb oil and be soggy.
Cook until golden and tender, about 3 minutes per side.
Drain on paper towels and serve hot!
Pro Tip: These fritters are best eaten hot and right away…you can keep them warm in a 300F oven while you finish the batch.