Whether you feel they've come on too fast, or that they're over too soon, the holidays are fleeting. Don't forget to enjoy them.
And don't forget to take care of yourself and those around you while you do.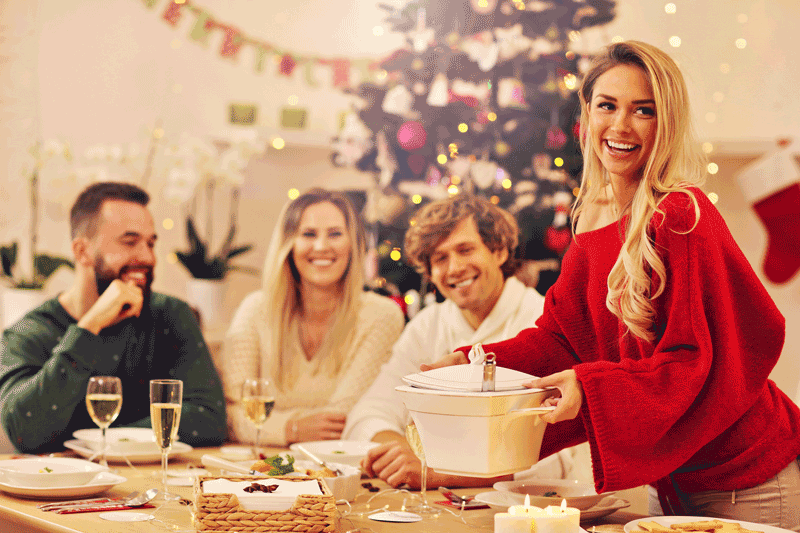 Make Room For Dessert
Have you been waiting all year for a helping of your grandmother's apple cobbler? Or have you been thinking non-stop about eating one of your cousin's marshmallow brownies? Enjoy them!
Don't deny yourself from indulging in the sweets this holiday season out of some idea that they are either going to destroy your diet, or that by avoiding them you'll have provided your body with the magic bullet to shed a few pounds.
Yes, a healthy lifestyle is about eating well on a regular basis. But it's also about enjoying yourself. The holidays aren't a regular thing.
You are strong enough to keep your diet going before, during, and after the holiday season, even if you stop to enjoy the peanut-brittle on the way. An extra piece of pie isn't going to be the thing that undoes all the diet and exercise that you've made part of your life.
Your momentum will help you push through this holiday season and beyond.
Partake In More Than Dessert After Dinner
After dinner, one of the best things you can do for yourself is get in some light physical activity.
If you're getting together with your friends and family this holiday season, start up a game of soccer, football, or basketball. Grab a frisbee and head over to the beach, or to the park. Organize a walk to look at holiday decorations in the neighborhood. Just get yourself in motion.
Sure, this might not be, nor should it be, as intense as your typical workout. And who cares if it doesn't entirely replace a trip to the gym. It will be good for your digestion. Your typical holiday meal probably won't look like the food your body is used to on a daily basis, and anything you can do to help yourself digest it is definitely a good thing.
And it'll be good for those friends and family members who might not be as active as you are for the rest of the year. Besides, you'll probably have a lot of fun, too.
Savor The Moments And Ask For Help
Some years, just stopping to savor the moments is one of the most difficult things to do during the holidays. Especially if you're the one hosting the gathering. There's an extra pressure to try to do everything, or to make everything perfect. And you might feel like you have to do everything yourself.
But don't forget, the holidays are a time for coming together. You can always ask for help from those around you. Invite your guests to bring dishes along with them. Ask them to help you refill the appetizer tray. Most people are more than happy to help if just ask.
And if you're attending someone else's gathering, don't wait to see if the host is going to ask for your assistance. Offer to help out. Set the table. Do the dishes. Keep them updated on the score of the football game.
Stay safe, be happy, and enjoy yourself this year.