It's that time of year again! November marks the beginning of another holiday season and if you're like us, you're wondering how you can keep healthy and happy this year. For many, the last two months of the year can mean a long list of unhealthy habits like binge eating holiday cookies and finding every excuse not to go to the gym. Throw some social anxiety in there and you've got a holiday cocktail that will have you drained by January 1.
Don't fret! We've put our heads together to come up with an actionable list of ways to stay healthy and happy during the 2018 holiday season!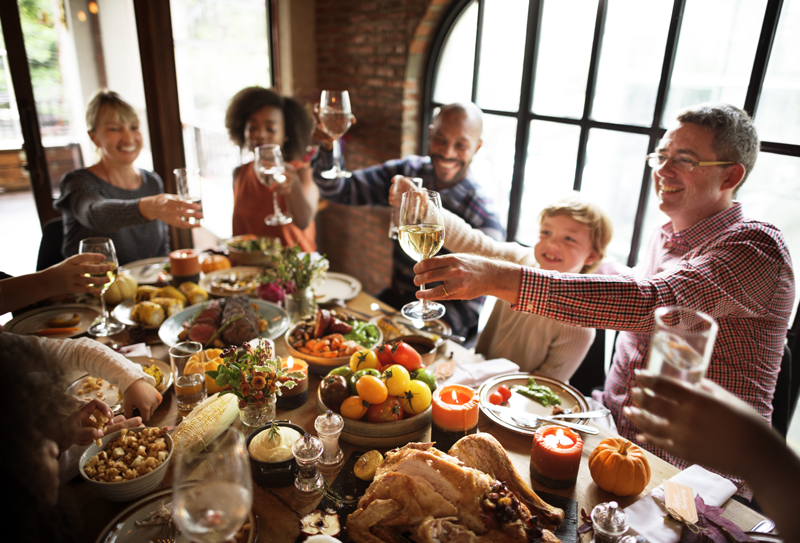 Be Kind to Yourself
First things first. The holidays are a time for warmth, togetherness, and good food. You're not going to be able to avoid all of the tasty treats and there will be times that you have to choose between the gym and a get-together with friends. So be kind! It's okay to go over your macros a bit or cut your sweat sesh short. Just do your best and don't make excuses!
Listen To Your Body
If you're feeling like you failed your diet for the day, that doesn't mean that you should continue to pile on seconds and turn the whole day into a free for all (yeah, we know how tempting it is). Your body will tell you when it's full, so this year, before you reach for another roll, ask yourself "am I really still hungry?" If you're not… don't eat the roll.
Order Meal Delivery
The holidays get busy FAST. When your days are filled with gift shopping, holiday parties, and decorating, sometimes the important stuff, like eating fresh healthy meals, gets pushed aside. This year, plan ahead! Try a meal delivery service like Catered Fit to fill in the gaps between all the busy holiday activities. Choose a meal plan that doesn't require much time or effort and is packed with the nutrients your body needs! Catered Fit offers a huge variety of chef prepared meals that are delivered five days a week, taking the stress out of meal time.
Get to the Gym Early
Even if you're not an early riser, you might give this tip a try for a month or two during the holidays. Working out in the AM means that you'll be free in the evenings for all the fun festivities that would usually put your workout on hold in November and December. Plus, if you workout in the morning, you'll burn more calories all day long… That's an invitation to eat a Christmas cookie if you ask us! Just one though 😉
Choose to Say No
Yep, we said it! You don't have to do or be everything this year. Give yourself permission to say no to people, parties, and food that don't make you feel good. The only obligation you have is to be the healthiest, happiest version of yourself this holiday season.
What do you expect your biggest struggle will be? How do you plan to combat it? Let us know! Shoot us an email at submissions@cateredfit.com.