Over the summer we've worked hard to bring new flavors and functions to your meal plan! And if you aren't tasting them, you will experience them in the member portal! We're always looking for new ways to improve your Catered Fit experience and we're excited to debut some features and foods that we think you'll be excited about.
We're making it easier to select meals!
We know it's already pretty awesome to have the power to choose meals right in the palm of your hand- but we are making some updates to make this process even easier! If you want two of the same meal, you can now select using the quantity tool.
Meal Macros
Some of you have already expressed to us your excitement that macro-nutrients are now listed with each meal on the selection menu! This has been a long sought after feature by staff and members alike who religiously track their macros. Now, instead of waiting for your meals to arrive to find out the macros, you can plan your personal menu with macro-nutrients in mind. Should you need to look back on the macros of past meals, you can do that too by selecting the day and hovering over the black book icon in the top right corner. Even more recently, we've added macro-nutrients to our kid's meal selections as well!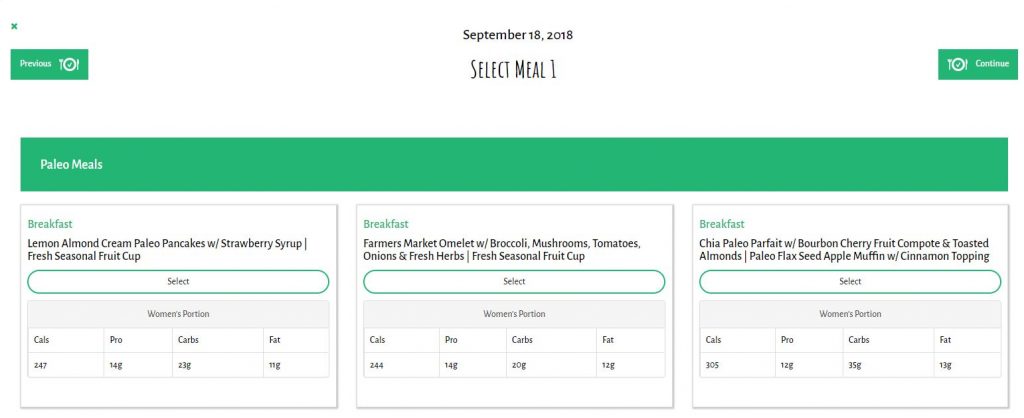 Ingredient Icons
Do you have any add-ons on your plans? Our add-on section now has labels to help you quickly identify which items are vegan, paleo or vegetarian.
New Coffee Flavors
#PSL #PSL #PSL It is that time of year, and just because we aren't in any cold-weather locations, it doesn't mean we can't enjoy a little pumpkin spice in our lives. It's not just the pumpkin we are obsessed with, look forward to other seasonal flavors coming your way. Keep an eye out for peppermint, caramel and chai tea lattes!
The Sweet Taste of NEW Desserts
Starting September 10th there is a brand new line of new desserts. We did the hard part and taste-tested all of them, so now you just get to sit back, relax and wait for them to arrive! Our new dessert line caters to classic, paleo and meatless members with choices for all! How does a Mexican Chocolate Mousse sound to you? Did we mention it is both vegan and paleo?
What else would you like to see on our menu or on the website? We'd LOVE to hear from you! Send us your suggestions to submissions@cateredfit.com.