We hear it every day, that hydrating is key to a happy and healthy life. Everything from your skin, to your digestion can be impacted by the amount of water you consume. But it isn't always so easy to guzzle all the water you're supposed to, let's be honest, it can get a little boring.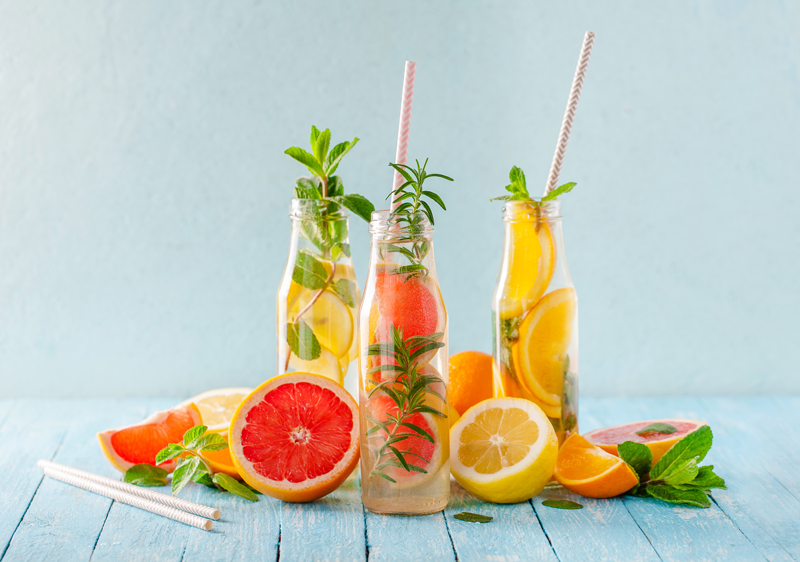 Here are some of our personal favorite flavored water combinations!
Anything Citrus!

When life gives you lemons (or limes, or oranges, or grapefruit…) we say, ADD THEM TO YOUR WATER! Citrus is probably one of the most common flavored water recipes and can be so refreshing.  If you are expecting lemonade, you might be a bit disappointed, but if you are looking for a sugar-free zingy option, this one is for you! The longer you let the citrus steep, the stronger the flavor will be!
Raspberry & Lime

is a delicious naturally sweet incredibly bright and flavorful water. Raspberries are jam packed with antioxidants and have been shown to have anti-inflammatory properties. A handful of berries and and a couple wedges of lime make this flavored water a grand ol' time.
Pineapple Mint

is a flavor combination we can't get enough of. Honestly, if you have had our cold-pressed juices we have a PineMint that is out of this world! If you can't get your hands on our PineMint juice, some pineapple and mint leaves into your water is an awesome second place. Mint is great for your stomach and bowels, and pineapple is helpful to your bone health and eye strength! Did we mention it is delicious?
Apple Pie

this might seem like a strange one, but don't knock it 'til you've tried it. This was actually a staff pick, both because it is weirdly delicious, but also has been known to promote weight loss. This is a simple one to make, cut up a couple apples and drop some cinnamon sticks into your pitcher, and wait… Once chilled up and steeped, it honestly tastes like a sweet apple cinnamon water, and it is surprising delicious. Apples are full of fibers, especially pectin, a soluble fiber which can help promote good digestive health and a sense of full belly and cinnamon is one of the best natural ingredient for weight loss.

Watermelon and Basil

these are some of our favorite flavors, but usually we prefer it as a salad with some feta cheese. For the purposes of this post though, the flavor profile of watermelon and basil (mint is a good substitute also) is just so summery and refreshing.  Basil leaves are known for managing arthritis, supporting brain function and even helping PMS. This is a summertime favorite and will help you stay hydrated and satisfied with each refreshing sip.
There are no limits on the way you can flavor your water! Looking for even MORE pizazz? Try sparkling water! Have fun with it! Almost any fruit becomes a great water flavor (we recommend avoiding bananas though…) If you are feeling daring, get bold and try some fresh herbs–rosemary and blackberry, sage and grapefruit… the sky's the limit! Hydrating and a healthy diet are so vital to our well being and both can be hard in our busy lives! But do not fear, Catered Fit is here! Hydration in line with a healthy well-balanced diet is key in weight loss. We will take care to deliver your freshly prepared meals right to your door, you can have one of these easy and delicious water recipes brewing in your fridge!