May is full of reasons to celebrate! It's finally starting to feel like summertime, we get to shower moms with love and flowers, and on Memorial Day we gather with friends and family to enjoy togetherness and to remember those who have fought for our freedom. But perhaps the most festive, fun, and tasty celebration in May is Cinco de Mayo!
Gather up your sombreros and pinatas, we're celebrating Mexico's victory over the French Empire in 1862 and putting a Catered Fit twist on favorite Cinco de Mayo treats. Keep reading for two recipes worth shaking your maraca at!
Mango Avocado Salsa (Serves 4)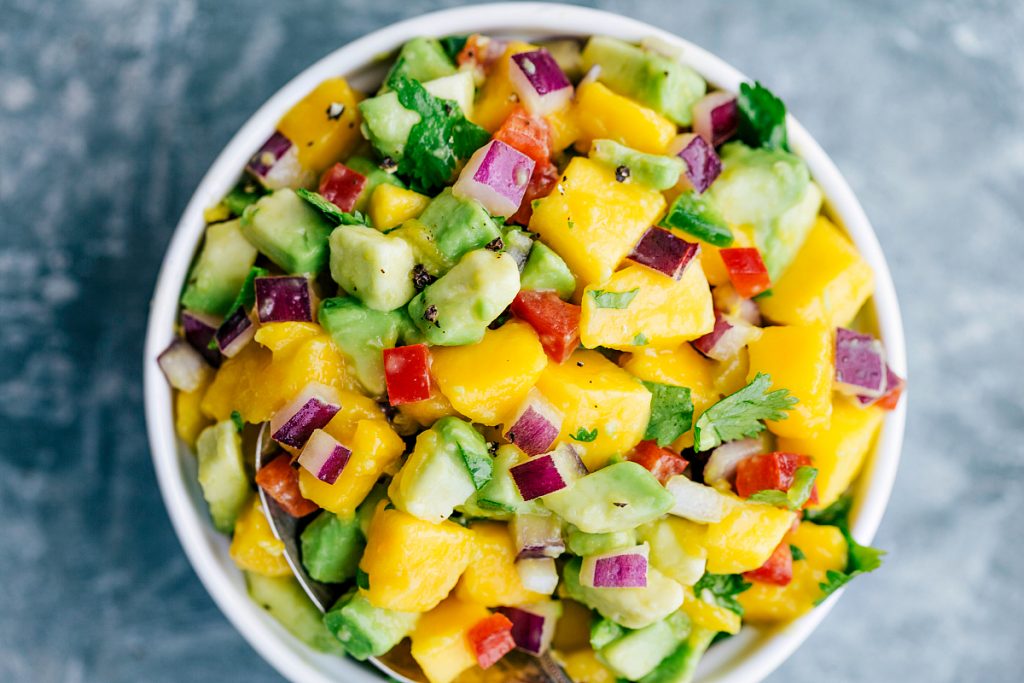 May also means that mangoes are in season! This mango avocado salsa will be the freshest contribution to any Cinco de Mayo party and only takes a few minutes to put together!
Ingredients:
1 ripe but firm mango, diced
1 ripe but firm avocado, diced
1 large tomato, diced
½ red onion, chopped
1 jalapeno pepper, seeded and diced
¼ bunch cilantro, chopped
¼ tsp. garlic powder
1 lime, juiced
Pinch of salt
Directions:
Gently combine all ingredients and salt to taste. Serve with tortilla chips or on tacos!
–
Tequila Lime Fish Tacos with Cabbage Slaw (Serves 4)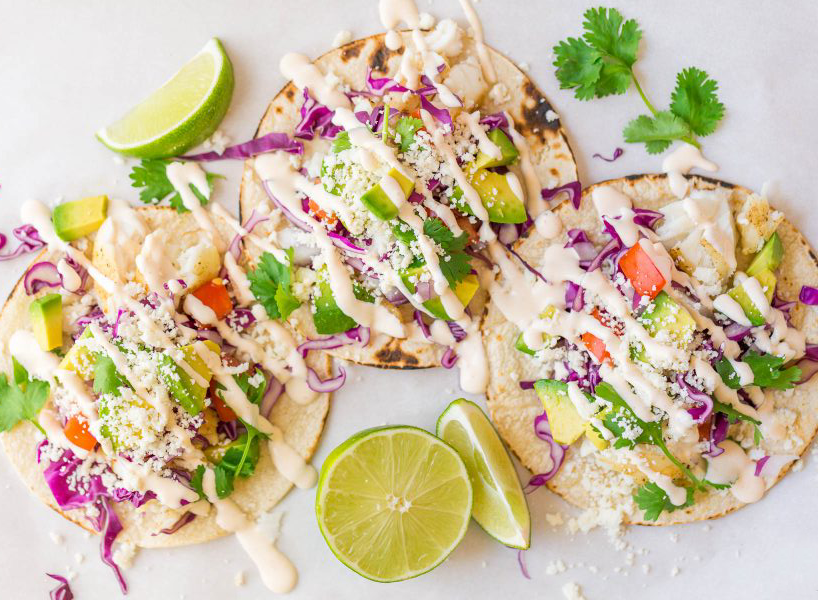 Tequila is a Cinco de Mayo staple so why not add it into your favorite dish: fresh fish tacos. Your party crowd will be all too pleased with you pull off this easy but flavorful recipe.
Ingredients for Cilantro Crema:
8 oz greek yogurt (or sour cream)
¼ milk of choice
2 tbs finely chopped cilantro
½ tsp cumin
2 limes, juiced
Salt and pepper to taste
Directions for Cilantro Crema:
Combine crema ingredients and chill for one hour.
Ingredients for Cabbage Slaw:
2 cups shredded red cabbage
½ cup red wine vinegar
1 tbs honey or agave
1 tsp seasalt
1 cup fresh cilantro leaves, chopped
Directions for Cabbage Slaw:
Mix together vinegar, honey or agave, and salt. Add cabbage, stir to coat. Let marinate for 15 minutes then fold in the cilantro. Set aside until ready to use.
Ingredients for Fish Marinade:
3 tbs tequila
3 tsp cumin
2 tsp garlic, minced
1 lime, juiced
Sea salt and fresh ground pepper to taste
6-8 oz mahi mahi (or other firm white fish), cubed
Olive oil, for cooking
Directions for Fish Marinade:
Combine tequila, cumin, garlic, lime juice, salt and pepper. Add in cubed fish and marinate for 4-5 minutes. To cook on the grill, skewer fish cubes (about 4-5 per skewer) and place on the grill until fish is white and cooked through. Flip every 60 seconds for a total of 4 minutes. Remove from heat and remove fish from skewers. To cook on the stovetop, heat a medium skillet with 1 tbs olive oil over medium/high heat. Add fish and cook until white and cooked through, about 4 minutes.
Finishing Ingredients:
6-7 inch soft tortillas
2 cups crumbled cojita cheese
1 avocado, sliced
Hot sauce if desired
2 limes, cut into wedges
Directions for Finishing Tacos:
Warm tortillas on the grill or in the skillet for about 2 minutes on each side. Wrap tortillas in a foil pouch to keep them warm. To build tacos, drizzle the crema over the tortilla, top with strained cabbage mixture, add fish, garnish with cojita cheese, avocado slices, hot sauce, and serve with a wedge of lime!