For those of us living a paleo lifestyle there are numerous benefits. From eating a clean diet without additives, preservatives or chemicals to weight-loss, the perks of being paleo are so much more than just a diet.
The Catered Fit Paleo Meal Plan is leading the pack with a variety of meals and add-ons that are paleo friendly. Trust us, we know how hard it can be to plan and prep all your paleo meals. That's why we say  "Meal Prep, Shmeal Shmep!" Let us do all the hard work. Choose from three, four or five meals per day that are portion controlled, macronutrient balanced, freshly prepared and delivered daily.
Today, we are spotlighting our new favorite paleo meal! Our Miracle Noodle Bimbimbap Bowl!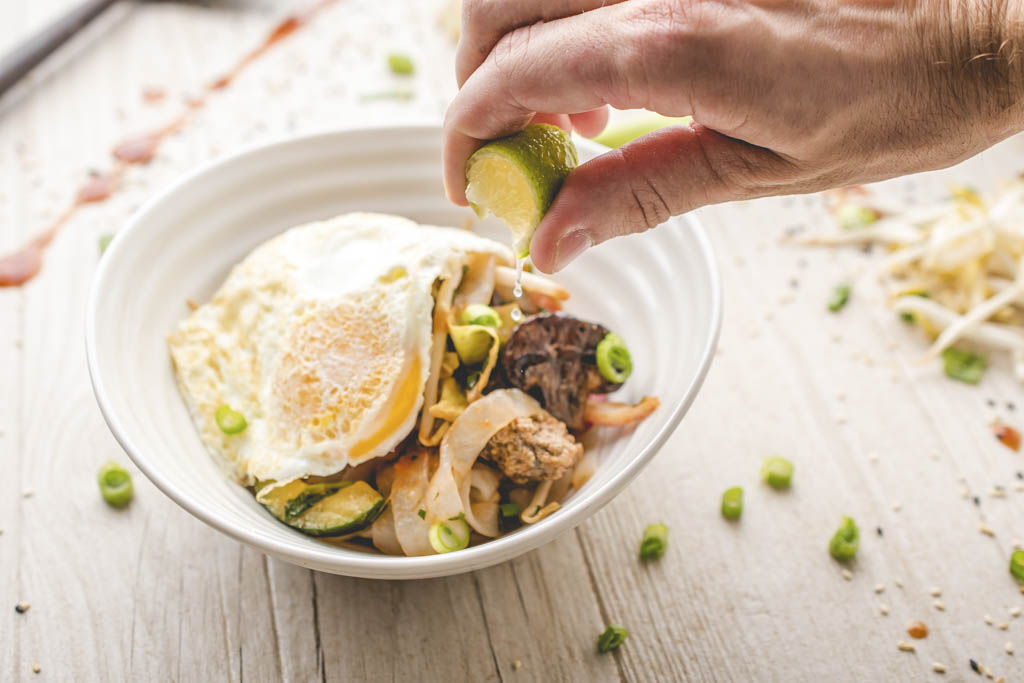 What makes this meal so special? Besides the amazing combination of vibrant flavors and fresh ingredients, this meal is PALEO-TASTIC!  With a base of Miracle Noodles, our paleo members aren't sacrificing their love of noodles. What are Miracle Noodles? Just the greatest thing since sliced paleo bread! Miracle noodles are low calorie, grain-free, gluten-free, soy-free, vegan shirataki noodles. That means they are paleo friendly (and delicious!).
Shirataki noodles have been enjoyed in Japan for over 1400 years…
Here are some reasons we love them:
Great health benefits

A study in the American Journal of Clinical Nutrition patients who were given glucomannan (a primary ingredient in Miracle Noodles) saw a reduction in total cholesterol, decrease in triglycerides and a reduction in systolic blood pressure.

Helps to balance your blood sugar

High carbohydrate foods like pasta, rice, and grains have a high glycemic index. They digest rapidly and that causes fluctuations in your blood sugar. The glucomannan in Miracle Noodle slows down the absorption of glucose helping your blood sugar even out so you wont have spikes of energy or exhaustion.

Promotes healthy weight-loss

Did we mention they are super tasty & 100% PALEO?

That's probably our favorite reason.
Check out our Bimbimbap Bowl and numerous other Miracle Noodle products in our Paleo Meal Plan this month!